Custom Table Craft
Eleven Jackson Street | Dundee, Illinois 60118 | 224-484-8323
---
We offer quality handcrafted tables and custom made hardwood table tops to the trade
---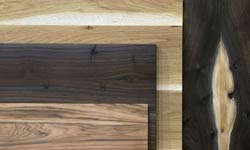 ---
At Custom Table Craft, we perform in offering heirloom quality table tops and tables in a production woodworking shop using the finest kiln dried hardwoods.
From hardwood selection through finishing and shipping, we are diligent. Our quality hardwood products exceed industry standards and our crafts-persons treat each table and top as a showpiece which will be apparent to your clients and customers. We offer live edge tables and hardwood tops ranging from simple two top restaurant tops to kitchen island and counter tops to large slab dining, conference tables & desk tops and solid work surfaces. Our hardwood top products are available in nearly any size, thickness and in any non-endangered hardwood species such as Walnut, Cherry, Ash, Sapele, Hard Maple, Hickory and more.
Dependable quality from a supplier of wholesale handcrafted solid hardwood surfaces
---
Quality Tables & Tops with lead times that will impress your residential and commercial clients
---
Our "to the trade" hardwood tops, solid surfaces and tables offer superior quality and profitability to our select vendors and distribution partners.
Our dealers, interior designers and hospitality suppliers rely on our quality, pricing and dedication to protecting their interests and time investment. Our lead times, pricing and quality allow for both profitability and for satisfied clients. We strive to assure that our representatives, designers and distribution partners can depend on the our handcrafted quality, impressive lead times and our wholesale pricing structure. As a wholesale supplier of solid hardwood tops and tables, we offer our clients a quality product that enhances their ability to secure new business and to keep current clients coming back.
Wholesale pricing & on time delivery with the superior quality you will appreciate representing